[title size="2″]What is it?[/title]
The new credit hold feature allows you to place accounts (RTO's) on credit hold.  You can do this manually or automatically.  When an account is on credit hold, office staff will be alerted to this when working with their entries.  In addition, you can restrict what services users have access to on ShowGroundsLive.com.   The site then prompts the user to make a payment in order to be able to continue to use services on the site.
[title size="2″]Manually Placing an Account on Credit Hold[/title]
To automatically place an account on Credit Hold simply:
Find the account in RTO's
Enter reason the account is being placed on credit hold

That's it.  After entering the reason, notes are added to the RTO history.

From that point forward, when this RTO is used on a new entry, office staff will receive the following alert/confirmation when entering an entry for this person: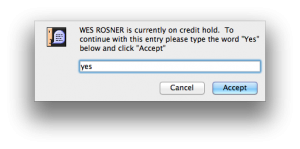 [title size="2″]Automatically Placing RTO's on Credit Hold[/title]
If you would like the system to manage credit holds automatically you need to first establish the rules and settings for automatic holds.  New system preferences have been added.

[title size=""]Settings[/title]
Days before entry is past due — Placing an RTO is based on them having entries with open balances and those balances being aged by a certain number of days or more.  This is the place to set that number of days.  30 would mean it's an open balance for a show ending more than 30 days ago.

Past Due balance — This defines the total dollar amount that must be owed to be placed on credit hold.  This allows you to not place accounts on hold for small balances for instance.
Automatically place RTO's on credit hold — Account will be evaluated daily and if this checkbox is checked account set to credit hold based on the first two settings, days and age.
Automatically remove Credit Hold — This is the opposite setting.  It will automatically remove people from credit hold when sufficient payment is made.
E-mail Credit Hold status changes — This ensures that a person responsible for Accounts Receivable is notified whenever an account is either placed on Credit Hold or removed from it.  We highly recommend this be used.
Accounting E-mail Address — This is the e-mail address of who should be notified.
[title size="2″]ShowGroundsLive.com [/title]
Once an account is on Credit Hold, ShowGroundsLive.com can restrict their use of certain features.  Users would receive the following message when trying to access those features:

Clicking the "Pay Now" button will bring them to our standard checkout tool to make payment.
[alert type=" notice"]If you do not wish to have your ShowGroundsLive.com site restrict users please contact support@showgroundsonline.com for us to change this in your settings for the site..[/alert]